Name

Eastern District of Virginia
District Office Contact
This section provides more information about District Office Contact.
Alexandria - District Headquarters
Newport News
Norfolk
Richmond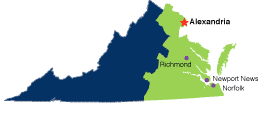 Name
Eastern District of Virginia
This section provides more information about Eastern District of Virginia.
Vacancy
The position has not been filled yet.
District Task Force Contact
This section provides more information about District Task Force Contact.
Capital Area Regional Fugitive Task Force (CARFTF)

Purpose: The Capital Area Regional Fugitive Force's (CARFTF) mission is to locate and apprehend fugitives throughout Washington DC metropolitan area. With offices in Washington DC, Northern Virginia, and Maryland, the CARFTF has developed and will continue to develop relationships with numerous Federal, state, and local law enforcement agencies in order to help ensure the safety of the citizens of our nation's capital and surrounding areas.

Participants:

U.S. Marshals Service (USMS)
Department of State
Bureau of Alcohol, Tobacco, Firearms, and Explosives (ATF)
Drug Enforcement Administration (DEA)
Department of Housing and Urban Development
Department of Veterans Affairs
Federal Protective Services
Federal Bureau of Investigation (FBI)
U.S. Capital Police
U.S. Mint Police
U.S. Postal Inspectors
U.S. Secret Service
Social Security Administration
Alexandria Police Department
Alexandria Sheriff's Office
Richmond Police Department
Virginia State Police
Virginia Department of Corrections
Fairfax County Police Department
Fairfax County Sheriff's Department
Immigration Control and Enforcement
Chesapeake Sheriff's Department
Chesapeake Police Department
Portsmouth Police Department
Newport News Police Department
Diplomatic Security Service

Phone: (703) 913-4607
County
Accomack, Amelia, Arlington, Brunswick, Caroline, Charles City, Chesterfield, Dinwiddie, Elizabeth City, Essex, Fairfax, Fauquier, Gloucester, Goochland, Greensville, Hanover, Henrico, Isle of Wight, James City, King and Queen, King George, King William, Lancaster, Loudoun, Lunenburg, Mathews, Mecklenburg, Middlesex, New Kent, Norfolk, Northampton, Northumberland, Nottoway, Powhatan, Prince Edward, Prince George, Prince William, Richmond, Southampton, Spotsylvania, Stafford, Suffolk, Surry, Sussex, Westmoreland, York
Court: in Alexandria, Newport News, Norfolk, Richmond
Profiled Fugitives
If you have information on any fugitives, please call 1-888-869-4589. (24 Hour Tip Line)
The policies and procedures of the various U.S. Marshals Service District Offices found on this website may vary depending on local rules, local needs, and legal and policy interpretations. These policies and procedures, and any variations among District Offices, are not intended to, do not, and may not be relied upon to create any rights, substantive or procedural, enforceable at law by any party or person in any matter civil or criminal. Nor are any limitations thereby placed on otherwise lawful U.S. Marshals Service prerogatives.