Enix Smith III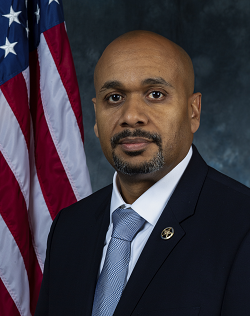 The Honorable Enix Smith III was nominated by President Joseph R. Biden Jr., confirmed by the United States Senate, and appointed on July 25, 2022, to serve as the United States Marshal (USM) for the Eastern District of Louisiana.
United States Marshal Smith is responsible for protecting the federal judiciary, apprehending federal fugitives, managing and selling seized assets acquired by criminals through illegal activities, housing and transporting federal prisoners, and operating the Witness Security Program.
Prior to United States Marshal Smith's appointment, he served in the Office of Congressman Cedric L. Richmond from 2011 to 2021. He served as Chief of Staff and Deputy Chief of Staff from 2015 to 2021, Law Enforcement Coordinator from 2011 to 2021, and District Director in 2011. Before joining Congressman Richmond, USM Smith worked as a Quality Control Supervisor for Quadel Consulting, Program Site Administrator for Louisiana Community Developers, and was a teacher for New Orleans Public Schools from 1998 to 2005.
United States Marshal Smith received his Bachelor of Arts from Xavier University in 1998, and is Louisiana Department of Education Certified in Special Education, Early Childhood Education, and Elementary Education.