Brian A. Kyes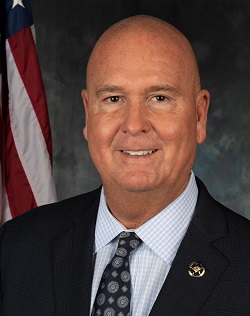 The Honorable Brian A. Kyes was nominated by President Joseph R. Biden Jr., confirmed by the United States Senate, and appointed on October 17, 2022, to serve as the United States Marshal (USM) for the District of Massachusetts.
United States Marshal Kyes began his law enforcement career as a Patrol Officer with the Chelsea, Massachusetts, Police Department on June 1, 1987. He has held various ranks and assignments through the years including Sergeant (1994), Lieutenant (1996), and Captain (2002) before being appointed as the 18th permanent Police Chief in 2007. United States Marshal Kyes remained Police Chief until he retired in October 2022.
United States Marshal Kyes graduated from Suffolk University Law School in Boston, Massachusetts, in 2002, and is a Licensed Attorney in the Commonwealth of Massachusetts. He has a Bachelor of Arts in Economics from Framingham State University (1987) and Master of Arts in Criminal Justice from Anna Maria College (1990). United States Marshal Kyes served as the President of the Massachusetts Major City Police Chiefs Association from 2015 to 2022.
United States Marshal Kyes was very active in various law enforcement committees during his career in the Commonwealth serving as the following: Chairman of the Legislative Committee for the Massachusetts Chiefs of Police Association, Vice President of the Massachusetts Police Accreditation Commission, Vice Chairman of the Metro Boston Homeland Security Region, a member of the Massachusetts Chiefs Executive Committee, the State's Community Policing and Behavioral Health Advisory Council, and the appointed to the Municipal Police Training Committee (MPTC) by the Governor. He has created training curriculums for the MPTC for all sworn personnel across the state, including Community Engagement Strategies as well as the Active Shooter-Hostile Event Response (ASHER) Training for all departments.
United States Marshal Kyes also taught at various Massachusetts Police Academies as well as at Endicott College, Merrimack College, Bunker Hill Community College, and Fisher College. He received the first annual Police Chief of the Year Award in 2018, and various other community-based awards. He is married to his wife Rosa and has two daughters, Yelitza and Brianna.