Sonya K. Chavez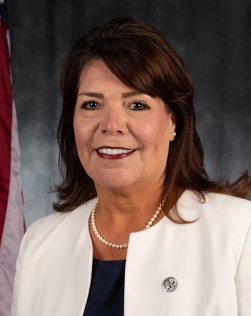 Sonya K. Chavez was sworn in as New Mexico's United States Marshal in April 2018.
Her appointment makes her New Mexico's first female to serve as U.S. Marshal. Marshal Chavez is responsible for oversight of one of the Marshal Service's largest Districts, and one which makes up the Southwest Border Region. Shortly after being appointed as U.S. Marshal, she was asked to serve on the Judiciary's Committee on Southwest Border matters, and in September 2019 was appointed to the U.S. Marshals Advisory Council.
Marshal Chavez spent 22 years as a Special Agent with the Federal Bureau of Investigations (FBI). She joined the FBI in April 1996 and was assigned to the Chicago Division, where she was a member of the Division's Joint Task Force on Gangs. She developed multiple complex investigations targeting some of the largest and most violent street gangs in the country and spent the majority of her Bureau career targeting the operation of criminal street gangs in the United States. Marshal Chavez has participated in the arrest of some of the most violent gang members and drug distributors during her tenure with the FBI.
She has been recognized by the FBI, and by state and local law enforcement and professional associations for her investigative work. In December 2006, Marshal Chavez received a transfer to the FBI's Albuquerque Division and initiated the FBI's Safe Streets High Intensity Drug Trafficking Areas Gang Task Force, adding Albuquerque as an active participant in the FBI's national gang initiative. She was the Division's Undercover Program Coordinator and was a member of the FBI's Crisis Negotiation Team in both Chicago and Albuquerque. Marshal Chavez has been qualified as a subject matter expert by the Federal Court in the Northern District of Illinois and in the District of New Mexico in the area of criminal enterprises and their communication and drug transportation methods.
Prior to joining the FBI, Marshal Chavez worked as a television news reporter and anchor for CBS and NBC news affiliates. She was the director of marketing at the Albuquerque Hispano Chamber of Commerce and was press aide and spokeswoman for then-New Mexico Governor Bruce King during his last administration.
Marshal Chavez received a bachelor of arts degree in journalism and mass communication from New Mexico State University. She earned a master of public administration degree from the University of New Mexico (UNM) and has completed post graduate work in intercultural communication at University of New Mexico.