Randall Huff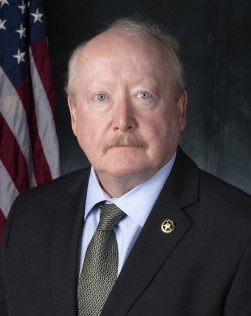 Marshal Randall Huff serves as the United States Marshal for the District of Wyoming. He was confirmed by the United States Senate, then appointed by President Donald J. Trump on July 9, 2019.
Marshal Huff brings a variety of law enforcement and management skills from prior employment. From 2012 to 2019 he worked for the State of Wyoming managing a statewide group of information technology security technicians implementing end-point technology needs for numerous State of Wyoming agencies including law enforcement and correctional facilities.
He worked as the Director of Law Enforcement for TLO LLC, a technology company in Boca Raton, Florida for several years developing software tools that were used by law enforcement agencies worldwide to fight online exploitation of children.
From 1990 through 2009 Huff worked for the Wyoming Division of Criminal Investigation (DCI) as a Special Agent. The first thirteen years at Division of Criminal Investigation were spent conducting drug and violent crime investigations on a regional multi-jurisdictional taskforce. He ultimately commanded that team of investigators who were responsible for criminal investigations in the southeast region of Wyoming.
In 2003 he joined the newly established Internet Crimes Against Children (ICAC) task force at Division of Criminal Investigation where he conducted computer forensics and online computer crime investigations. In 2004 the Wyoming ICAC team won the Choice Point award given by the International Chiefs of Police Association for developing computer software which is still in use by police agencies worldwide.
His law enforcement career began in 1984 in Torrington, Wyoming as a police officer. During this time he completed his Bachelor of Science Degree from the University of Wyoming.
Marshal Huff has an Honorable Discharge from United States Marine Corps.
Marshal Gaffney began his law enforcement career in 1975. From 1975 to 1979, Marshal Gaffney served as a Deputy at the Marquette County, WI, Sheriff's Office. From 1979 to 1981, Marshal Gaffney briefly changed to federal law enforcement, working for the Federal Bureau of Prisons at the Federal Correctional Institution, Oxford, WI. In 1981, Marshal Gaffney rejoined the Marquette County Sheriff's Office serving from 1981 to 1994 as a Detective Sergeant. From 1994 to 2007 as he served as Chief Deputy of that office.
Marshal Gaffney graduated in 1977 from the Fox Valley Technical College in Appleton, Wisconsin from the Law Enforcement Certification Academy.