Ralph Sozio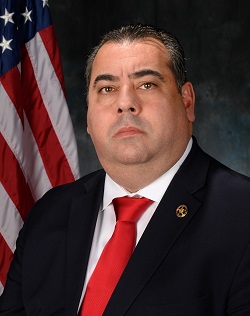 Ralph Sozio was sworn-in on March 13, 2020 to be the U.S. Marshal for the Southern District of New Yok.
Ralph Sozio was raised in Mount Vernon, NY with his parents, both Italian Immigrants, who came to the United States in search of a better life. He attended Iona Prep High School and moved on to attend college at Pratt Institute in Brooklyn, New York. While attending College in 1991, at 21 years old, he was given a special opportunity to be part of the Westchester County Public Safety Emergency Force and completed the Westchester County Police Officer Academy.
In 1997 he joined the New York City Police Department and assigned to the 45th Precinct in the Bronx. On September 11 he responded to the World Trade Center terrorist attacks. After spending many tours at ground zero over the next few months assisting in recovery operations and other law enforcement support he returned back to normal precinct operations. In March 2002 he joined the United States Secret Service.
He was a Special Agent in the New York Field Office working a multi-million dollar mortgage fraud case, performed undercover counterfeit operations and the Lead Agent for protection assignments to include Site Coordinator for Pope Benedict at Yankee Stadium and Pope Francis at St Patrick's Cathedral. He fulfilled his Protection Detail assignment at the William Clinton Division where he was assigned for over 5 years. He returned to the New York Field office and worked in the Counterfeit, Electronic Crimes Task Force and Protection Squad.
He was tasked with preparing a security plan for Presidential Candidate Donald Trump's residence in New York City where he served as the Assistant to the Special Agent in Charge, New York Field Office Protection Squad (Trump Tower and the First Family Operations in New York) until his appointment with The United States Marshal Service, Southern District of New York in December 2019.