Michael C. McGowan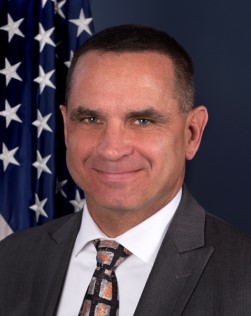 Michael C. McGowan was sworn in as the United States Marshal for the District of Delaware on October 30, 2015.
Marshal McGowan is responsible for the management, administration, and direction of operations throughout the District of Delaware. His responsibilities as the Marshal include leading and directing a staff whose core missions include security and protection of the United States Courts, criminal investigations, fugitive apprehension, execution of federal court orders and other law enforcement activities.
Marshal McGowan began his law enforcement career with the New Castle County Police Department (NCCPD) in 1989. During his tenure with New Castle County Police Department, Marshal McGowan served in a variety of capacities to include Uniform Patrol, Criminal Investigations, Staff Executive Officer and Administrative Branch Commander. In 2009, Marshal McGowan was appointed Chief of Police of New Castle County Police Department and served in that capacity until his retirement in 2011.
Upon retirement, McGowan served as New Castle County Director for United States Senator Chris Coons, where he functioned as the Senator's liaison and adviser on law enforcement issues as well as managing the day-to-day operations of the Senator's Wilmington, Delaware office.
Marshal McGowan is affiliated with the Police Executive Research Forum, and he previously served on the Board of Directors for the Better Business Bureau of Delaware as well as the Delaware Center for Horticulture. He received his Bachelor of Science degree from the University of Delaware in 1984 and his Masters of Science in Public Administration from Wilmington University in 2008. Marshal McGowan is a graduate of the 111th Administrative Officers Course of the Southern Police Institute at the University of Louisville.