Kerry L. Pettingill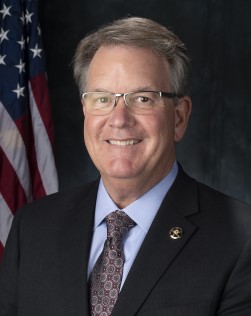 Kerry L. Pettingill was appointed by President Donald J. Trump on September 30, 2019 as the U.S. Marshal for the Eastern District of Oklahoma.
The U.S. Marshals Service is the federal government's primary agency for fugitive investigations and security of the federal judiciary and courts. The U.S. Marshals Service operates the Witness Security Program, oversees all detention management matters for individuals remanded to the custody of the attorney general, and manages seized assets for the Department of Justice Asset Forfeiture Program.
Marshal Pettingill began his law enforcement career with the Oklahoma Highway Patrol in 1982 and was promoted through every rank within the Patrol. He served in various field assignments and had collateral duties in tactical operations and as a bomb technician. In 1997, he was promoted to Commander of the Oklahoma Highway Patrol's tactical teams and bomb squad with additional duties as liaison to the FBI Joint Terrorism Task Force.
In 2002, he was assigned additional duties as deputy director at the newly formed Oklahoma Office of Homeland Security. In 2004, he was appointed to serve as the director for the Oklahoma Office of Homeland Security and terrorism advisor to the Governor. In 2011, he was promoted to the rank of Colonel and assumed command of the Oklahoma Highway Patrol, a position he held until his retirement from state service in 2014.
Marshal Pettingill served on numerous committees and boards throughout his 32 years career of state law enforcement service. He served as a member of a U.S. Homeland Security/FEMA Local, State, Tribal and Federal Preparedness Task Force; served one year as the chairman of the Homeland Security Committee within the International Association of Chiefs of Police; and served as a member of the Advisory Board for The Judge Alfred P. Murrah Center for Homeland Security Law and Policy at Oklahoma City University School of Law.
After his retirement from state service, Marshal Pettingill went to work in the Energy Services sector and at the time of his appointment he was the Corporate Director for Department of Transport Compliance at Quintana Energy Services, Inc.
Marshal Pettingill holds a Bachelor's of Science Degree from Southern Nazarene University, is a graduate of the FBI National Academy Session #212 and the FBI Hazardous Devices School.