John M. Garrison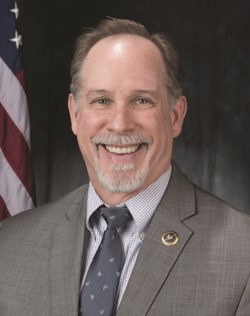 John M. Garrison was nominated by President Donald J. Trump on June 20, 2018, to become the United States Marshal for the Eastern District of Texas.
He was initially sworn-in on February 4, 2019 by Rodney Gilstrap, Chief Judge for the Eastern District of Texas. Marshal Garrison currently oversees 42 personnel in the district with an annual operating budget of over 20 million dollars for operating expenses, which includes the secure care and custody of federal detainees, judicial security, apprehending fugitives and non-compliant sex offenders, and seizing and managing assets acquired by criminals through illegal activities. The Eastern District of Texas consist of 43 counties and has eleven federal courthouses in seven different cities.
Marshal Garrison began his career in law enforcement in 1987, as a Deputy Sheriff with the Rapides Parish Sheriff Office (RPSO) in Alexandria, LA. He was hired by the U.S. Marshals Service in January 1990 as a Deputy United States Marshal in the Eastern District of Texas. He joined the U.S. Marshals Service Special Operations Group (SOG) in November 1998. Marshal Garrison spent his whole U.S. Marshals Service career in Tyler, Texas, but due to special assignments was able to travel the United States in addition to a six-month assignment in Iraq with Special Operations Group. He also served in numerous programs with the U.S. Marshals Service to include being a member of the Federal Bureau of Investigation's (FBI) Violent Crimes Task Force, the District's Sex Offender Investigations Coordinator, Judicial Security Inspector, and was the (Acting) Assistant Chief when he retired from the U.S. Marshals Service on November 25, 2017.
Marshal Garrison attended Louisiana State University in Baton Rouge, Louisiana. He is also a proud United States Marine Corps veteran.