Robert Don Ladner, Jr.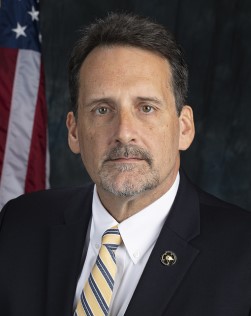 Robert Don Ladner, Jr. was appointed by President Donald J. Trump and took office as the United States Marshal for the Northern District of Florida on September 17, 2018.
As the US Marshal, he oversees U.S. Marshals Service operations within the Panhandle of Florida, with offices and federal courthouses located in Pensacola, Panama City, Tallahassee and Gainesville.
Prior to joining the United States Marshals Service, Marshal Ladner retired from the Florida Department of Law Enforcement (FDLE) as the Assistant Commissioner of the Investigative and Forensic Science Division. As the Assistant Commissioner, he was second-in-command of the agency and oversaw all investigative, intelligence and forensic science efforts of the agency. He began his career with Florida Department of Law Enforcement in 1995 as a special agent and rose through the ranks, holding various supervisory and senior leadership positions to include, Special Agent in Charge of the Tallahassee Regional Operations Center, Director of the Office of Executive Investigations, Director of the Capitol Police, and Chief of Protective Operations for the Governor of Florida immediately following September 11, 2001.
He also coordinated the agency's response to the Pulse Night Club Terrorist Attack and the agency's response to hurricanes and natural disasters. Marshal Ladner was the incident commander for the State of Florida's initial law enforcement response to the State of Mississippi in the aftermath of Hurricane Katrina.
Marshal Ladner began his law enforcement career in 1981 and has served as a border patrol agent with the United States Border Patrol and as a local police officer, detective and detective Sergeant with the Palmetto Police Department and the Manatee County, Florida Sheriff's Office.
Marshal Ladner received a Master's Degree in Homeland Defense and Security Studies from the Department of Homeland Security's Center for Homeland Defense and Security, United States Naval Post Graduate School, in Monterey, California.