Johnny L. Hughes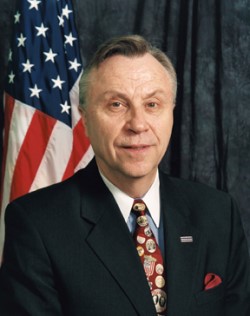 Johnny L. Hughes became the 33rd Marshal for the District of Maryland on February 14, 2002, following his appointment by President George W. Bush and confirmation by the United States Senate on February 8, 2002.
Prior to becoming United States Marshal, Mr. Hughes was Director of the National High Intensity Drug Trafficking Area Congressional Affairs and Public Information Office under the office of National Drug Control Policy. He was appointed to that position July 1, 1996.
From July 10, 1967, Mr. Hughes was a trooper with the Maryland State Police, retiring at the rank of Major June 30, 1996. Major Hughes has worked in numerous assignments and has held several command positions with the Maryland State Police.
Mr. Hughes was also the chairman of Legislative and Congressional Affairs for the National Troopers Coalition from 1982 through 1996 and served as Director of Government Relations for the National Troopers Coalition from 1996 through February, 2002. Mr. Hughes has extensive experience in congressional affairs work and testifying on law enforcement and criminal justice matters on Capitol Hill.
Mr. Hughes has served on several local, state and federal boards, committees and commissions. He is recipient of the United States Attorney General's Special Commendation Award in 1993, and recipient of the National Law Enforcement Council Achievement Award in 1992.
Most importantly, he is the Father of Michael and David Hughes, both former Maryland State Troopers. Michael being shot in the line of duty and now medically retired from the Maryland State Police and David currently a Supervisory Special Agent with the Drug Enforcement Administration.