Gregory S. Tabor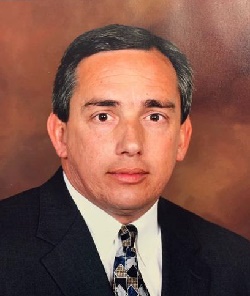 On December 22, 2020, Gregory Tabor was appointed by Donald Trump to be the U.S. Marshal for the Western District of Arkansas.
Marshal Tabor began his law enforcement career as a deputy with the Washington County Sheriff's Office in Fayetteville, Arkansas, in 1985. Shortly thereafter, he became a patrolman with the City of Fayetteville, Arkansas, Police Department. He was promoted through every rank within the Department, until becoming Chief of Police in 2006, a position he held for 13 years until his retirement in 2019. During his tenure as Chief, he also served as the Chairman of the Board for the Fourth Judicial District Drug Task Force. After his retirement from the Fayetteville Police Department, he became the Chief of Police at the Northwest Arkansas National Airport.
Marshal Tabor has served on numerous boards throughout his law enforcement career. He served as an executive board member for the Arkansas Association of Chiefs of Police, a member of the University of Arkansas Criminal Justice Institute Advisory Board, and a member of the Commission on Accreditation for Law Enforcement Agencies Director's Advisory Board.
Marshal Tabor is currently a member of the Arkansas Association of Chiefs of Police and the International Association of Chiefs of Police. He has been the recipient of numerous recognitions and awards, including the Arkansas Chief of the Year and the Fayetteville Police Department Lifetime Achievement Award.
Marshal Tabor is a graduate of the Senior Executives in State and Local Government Program at Harvard University John F. Kennedy School of Government, the Leadership in Diversity and Inclusion Program at the University of Arkansas, and Northwestern University's Senior Management Leadership Program. Marshal Tabor is also a graduate of the Federal Bureau of Investigation's (FBI) Leadership in Counterterrorism Program and Session 76 of the FBI's Law Enforcement Executive Development Program.