Enoch F. Nick Willard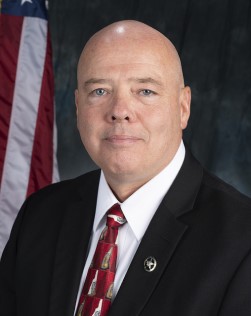 Enoch F. "Nick" Willard was appointed by President Donald J. Trump as the United States Marshal for the District of New Hampshire on August 30, 2018. He was sworn in as the U.S. Marshal on October 26, 2018.
As Marshal, Willard is responsible for leading and directing operations, including security and protection of the United States Courts, criminal investigations, fugitive apprehension, execution of federal court orders and other law enforcement activities for the District.
Marshal Willard started his law enforcement career in the United States Air Force, where he served as a Security Policeman during his four-year commitment. After the Air Force, Marshal Willard became a full-time certified police officer in New Hampshire, graduating from the 88th Police Academy in 1989. He served with the Sanbornton (New Hampshire) Police Department for three years before joining the Manchester Police Department (MPD) in 1992. During his tenure with Manchester Police Department, Marshal Willard served in various capacities within the Patrol Division and as a detective and detective supervisor in the Investigative Division. He was also one of the original members of the department's community policing unit and bicycle patrol officers. After being promoted to Sergeant in 2002, he was assigned as a Patrol sergeant and later a Detective Sergeant. Following his promotion to Lieutenant in 2006, Marshal Willard continued his assignment within the Detective Unit, where he was eventually promoted to Captain and assigned as the Investigative Division Commander in 2011. In June of 2013, he was promoted to Assistant Chief of Police and served in that capacity before being nominated for Chief of Police, and later confirmed by the full Board of Aldermen.
Through his career, Marshal Willard received numerous recognitions and honors to include a two-time recipient of the Department's Honorable Service Award, The Chief's Achievement award and a honorable mention for the National Association of Police Organizations "Top Cop" award. He is also a past recipient of the U.S. Marshals Service award for the arrest of a U.S. Marshal Top 10 Fugitive.
Marshal Willard graduated from New Hampshire Technical Institute, Concord's Community College with a degree in Criminal Justice. He received his polygraph examiner certificate from the Backster School of Lie Detection and is a graduate of the FBI National Academy, Session 247, where he was selected by his classmates as the class spokesperson and class president. Marshal Willard has also attended and attained certifications in a number of specialized instructional and training programs, and has presented and lectured at many colleges, police agencies and community groups over the course of his career.