Charles L. Goodwin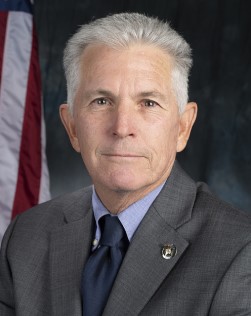 Charles L. Goodwin was sworn in on October 26, 2018 as the United States Marshal for the District of Hawaii.
As Marshal, his responsibilities encompass leading and directing operations, including security and protection of the United States Courts, criminal investigations, fugitive apprehension, execution of federal court orders and other law enforcement activities throughout the District.
Marshal Goodwin recently retired after 11 years as a private consultant to the Professional Golf Association Tour. Prior to that, he served with the Federal Bureau of Investigation (FBI) from 1982 to 2007 and retired as Special Agent in Charge of the Pacific Region in Honolulu, Hawaii.
In his nearly 25-year career with the FBI, he completed assignments at FBI Headquarters as well as field assignments in Cincinnati, Grand Rapids, Atlanta, Pittsburgh and Baltimore. Prior to joining the FBI, he practiced law in Georgia, was a contracted pilot for the United States Marshals Service, and served as a Chief Deputy Sheriff for Douglas County, Georgia.
Marshal Goodwin holds a Bachelor of Arts degree in Political Science and a Juris Doctor degree from the Woodrow Wilson School of Law.