Bradley A. Maxwell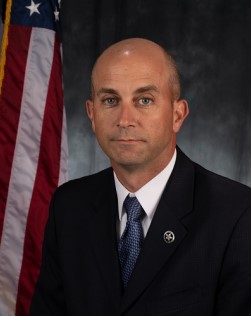 President Donald J. Trump nominated Mr. Maxwell on March 6, 2018 and he was confirmed by Senate on May 10, 2018 and sworn in on May 29, 2018 as the U.S. Marshal for the Southern District of Illinois.
Mr. Maxwell currently leads the Southern Illinois District of the United States Marshal Service for the 38 counties of Southern Illinois.
Prior to the United States Marshal's Service appointment, Mr. Maxwell worked for The Boeing Company where he was the St. Louis Site Security Manager and Chief of Uniform Security for the St. Louis, MO, St. Charles, MO and St. Clair, IL, sites. He led 150+ uniformed officers and staff in the safety and protection of the 16,000+ Boeing's St. Louis personnel and facilities.
Mr. Maxwell also spent a 20 year career with the United States Air Force. He began with the Air Force as a Quality Assurance Evaluator/Electro-Mechanical Minuteman Team Chief at Francis E. Warren Air Force Base (AFB), WY. In 2003, Mr. Maxwell was selected as a Special Agent for the Air Force Office of Special Investigations (OSI). As a Special Agent and later as Superintendent/Director of Operations for OSI at Scott AFB, IL, he deployed twice to Iraq, where he conducted insurgent and fugitive apprehensions and prisoner transports. He was awarded the Bronze Star for those activities. Before his retirement, he returned to Scott AFB, IL as the Deputy Chief of Counterintelligence from 2010 to 2011. Mr. Maxwell has a Bachelor's Degree in Criminal Justice Administration from Park University, and two Associate of Applied Science degrees in criminal justice and electronic systems technology from the Community College of the Air Force.