Bradley J. LaRose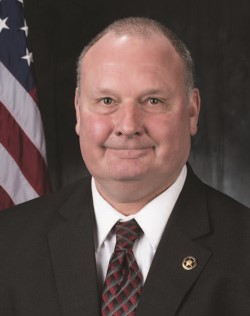 Bradley LaRose was sworn in as the United States Marshal for the District of Vermont on March 1, 2019.
The District of Vermont has offices in Burlington and Rutland. As U.S. Marshal, LaRose provides managerial oversight, insight and leadership to the district. He's responsible for establishing and maintaining effective working relationships with the federal judiciary and federal, state and local law enforcement agencies. Marshal LaRose reports to the office of the director, U.S. Marshals Service Headquarters.
Prior to his appointment, Marshal LaRose was a retired Chief of Police for the Town of Essex, Vermont. He began his law enforcement career in 1978 as a police officer with the Williston, Vermont and Burlington, Vermont Police Departments. In 1980, Marshal LaRose joined the Essex Police Department as a patrol officer. He rose through the ranks, serving as Sergeant, Lieutenant, Captain, and Acting Chief before becoming Chief of Police in 2012. He served as chief until his retirement in January 2018. At various times in his law enforcement career, Marshal LaRose supervised every function of the department including Operations, Investigations and Administration. Additionally, Marshal LaRose served as an adjunct faculty instructor at the Vermont Police Academy for 25 years and assisted in the development of the competency training program for the Essex, Vermont police department.
Marshal LaRose holds a Bachelor of Science in Professional Studies - Law Enforcement from Champlain College and an Associate of Science in Law Enforcement from Champlain College. He is a graduate of the FBI National Academy.