Stephen K. Eberle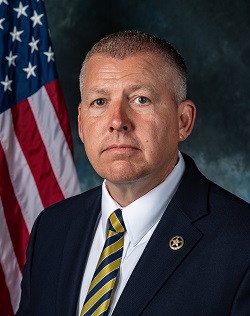 Stephen Eberle was nominated by President Joseph R. Biden Jr., and confirmed by the United States Senate on June 14, 2023, to serve as the U.S. Marshal for the Western District of Pennsylvania.
Marshal Eberle began his law enforcement career as a trooper with the Pennsylvania State Police (PSP) on March 6, 1995.  During his nearly 26 years with the PSP, Marshal Eberle was promoted to various command level positions including, Station Commander, Internal Affairs Commander, Troop Commander, and Director of the Department's Bureau of Emergency and Special Operations where he was responsible for the Special Emergency Response Teams, the Hazardous Device and Explosives Section, Aviation Section, Canine Section, Tactical Mounted Section, and the Electronic Surveillance Section.  In Marshal Eberle's last assignment with the PSP, he served as the Area I Commander, holding the rank of Major.  In this role, he oversaw the day-to-day operations of more than 20 state police stations, which provided primary police services to more than 400 municipalities throughout Western Pennsylvania.    
Upon retiring from the Pennsylvania State Police, Marshal Eberle served as a Regional Security Director for Secure Community Network (SCN), where he led efforts to ensure the safety and security for the North American Jewish Community.  In this role, he was responsible for the direct oversight of all SCN's regional and community security programs located throughout the northeastern United States.  
Marshal Eberle received his B.S. in Business Management form the Indian University of Pennsylvania and is a graduate of the Federal Bureau of Investigation's National Academy.