Eddie Frizell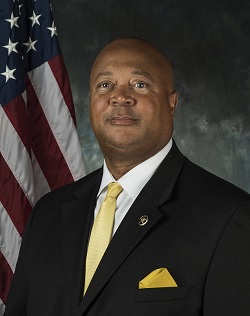 Eddie Frizell was sworn in on May 10, 2022 to be the U.S. Marshal (USM) for the District of Minnesota.
Previously, U.S. Marshal Frizell served as the Chief of Police for the Metro Transit Police Department in Minneapolis and St. Paul since 2019. From 1993 to 2019, U.S. Marshal Frizell worked for the Minneapolis Police Department. He held numerous leadership positions while at the department, including Deputy Chief of Patrol from 2012 to 2014, Lieutenant Supervisor for the Domestic Assault Unit from 2014 to 2017, and First Precinct Inspector from 2017 to 2019.
Marshal Frizell received his M.A. from the United States Army War College in 2015, his M.S. in Leadership from Augsburg College in Minneapolis in 2005, and his B.S. from the University of Iowa in 1987.